Yes, we can all agree that job interviews can be a quite intimidating experience as there are a lot of things we need to think about – including our outfits. Even though it's true that clothes don't make the man, we can freely say that they say a lot about his character, beliefs, and attitudes, which is exactly why our interview outfits matter a lot. So, if you need help with what to wear for an upcoming job interview, just read our tips and guidelines and learn something new today. Enjoy!
Interview outfits for ladies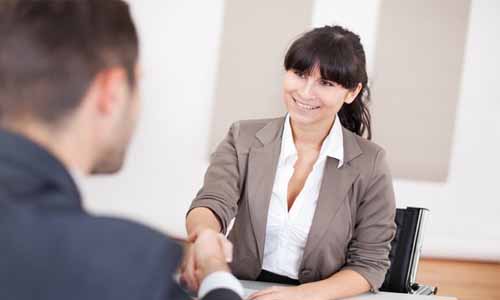 No matter if you're looking for a job in a top firm or in a small start-up, you must know that choosing the right outfit truly plays a huge role. Of course, if you know someone who works at the company you're being interviewed for, don't be afraid to ask about the dress code. However, the general rule says that you should stay away from too many accessories and too bright colors. Check out our tips and guidelines on dressing for different business environments:
Formal business environment
Did you know that business formal is perceived as the standard interview dress code, both for women and for men? That's right, so dress a little more formal than the company standard. As for the colors, a neutral color palette that includes black, dark gray, beige, and white is always a good idea, as it's a preferred color palette in a formal business environment.
If you love to wear skirts, you should ensure that your skirt is knee-length. This garment tends to hike up a little bit when you sit down, so bear that in mind as well. Pants are also a good choice, so go for a pantsuit if that's your preference. When it comes to the jacket, go for a tailored one that properly accentuates your waist. The blouse or shirt you wear should be a solid color.
As for footwear, pick the closed-toe shoes with a 2-6cm heel. Accessories should be minimal, so choose a pair of simple yet effective rose gold earrings and a matching bangle and you won't make a mistake. Besides that, your hair needs to be perfectly clean and groomed and your makeup as light and natural as possible.
Casual business environment
On the other hand, a company dress code tends to be more relaxed when you're applying for a position in IT or a smaller start-up, which means that a business casual style is a good option. Your main goal is to look classy and fashionable without going over the top, so act accordingly and make smart choices that can bring you success.
For example, a knee-length skirt or a pair of slacks in your favorite bright color will help you stand out from the crowd, but be careful with the top you'll pick. An ordinary white button-down is a fantastic choice as it'll balance out the entire look. A shift dress paired with a smart jacket is also a nice alternative, as long as the dress is at least knee-length.
Closed-toe shoes will do the trick here, too, and you can feel free to add a personal touch to your outfit. A patterned scarf around your neck is a good example, as well as a statement headband that'll depict your personal style at its finest.
Interview outfits for gentlemen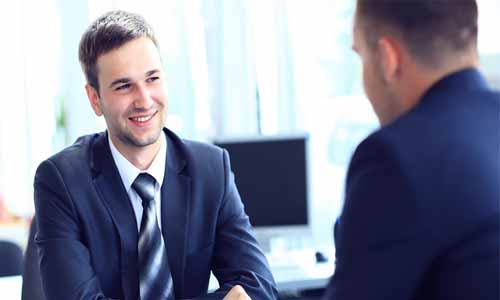 When it comes to gentlemen and their interview outfits, we must say that it's extremely important to look neat and tidy, no matter which position they're applying for. Of course, showing a little bit of personality through outfits is completely okay, but don't overdo it and skip loud pieces such as crazy ties with characters or bold patterns. If you need some help with putting together your flawless interview outfits, keep on reading because we're here to help you out:
Formal business environment
As already mentioned, business formal is basically the standard interview dress code, so get informed about the company's dress code if you want to get it right. The suit should obviously be your first choice, so pick a single-breasted, two-piece suit in your favorite dark color. Black, navy, and dark grey are undoubtedly the best ones out there.
Speaking of your shirt, there are two options you should pick from. The first one is white, whereas the second one is any other light color – you can't make a mistake with light blue and light grey. A traditional monochromatic tie will always do a great job, so try to avoid loud patterns no matter how much you love them.
Dark shoes that are properly polished and free from stains and scratches are an absolute must, as well as a pair of matching socks. Even though these probably seem irrelevant, remember that the trouser legs tend to go up when you sit down, which is exactly why your socks need to be appropriate. Avoid wearing strong cologne and be sure that your hair is clean and properly groomed.
Casual business environment
However, if you know that the company you're applying for doesn't follow a strict dress code, you can allow yourself to go for a business casual look. Needless to say, quirky ties, colorful socks, and patterned suits still aren't allowed, so don't get carried away even though it's a casual outfit.
A nice pair of chinos or trousers will be more than fine, as long as it's free from stains or holes. The same goes for a casual button-down with a collar. On the other hand, jeans and shirts without a collar should definitely be avoided simply because these are a bit too casual informal for a job interview. It's true for open-toe shoes and sandals as well, so stay away from them and opt for a pair of classy leather shoes and matching socks.
For IT and other creative industries, adding a personal touch to your outfit is completely fine. In fact, a lot of employers love to see forward-thinking people that will fit well with the team, so take advantage of your creativity when putting together an interview outfit and you won't regret it!
As you can tell, there are many things you should bear in mind when coming up with a flawless outfit for an upcoming job interview. One thing is certain – it doesn't have to be as challenging as you thought, so stick to our tips and guidelines and you won't make a mistake!