Every day, Adobe users put themselves at risk of losing important data while working and sharing files. Data corruption is a real issue that's only getting worse, making it more difficult for users. Many encounter the problem of  "my PDF file is corrupted, and how do I see the contents of the file?"
If you need to open a corrupted PDF file online, refer to https://pdf.recoverytoolbox.com/online/ – for any device and operating system (macOS, iOS, Windows, Android), and https://pdf.recoverytoolbox.com/ – for Windows only. The corrupt PDF Repair Online is an easy-to-follow tool that will painlessly repair your damaged files in just a few clicks.
While Microsoft provides helpful solutions to users struggling with data corruption, Adobe has offered little to no help. You may spend hours poring over the Adobe Help & Support website without finding any successful solution for your particular issue.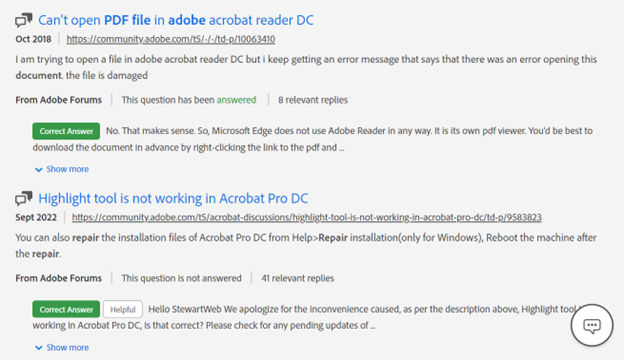 Corrupt PDF Repair Online in 3 clicks
1. You can open the page https://pdf.recoverytoolbox.com/online/ in any browser and on any device (9 languages are supported).
2. Select a PDF corrupt file.
3. Enter your e-mail address so you will be notified of the recovery results via e-mail in case your browser closes or if your online connection is interrupted.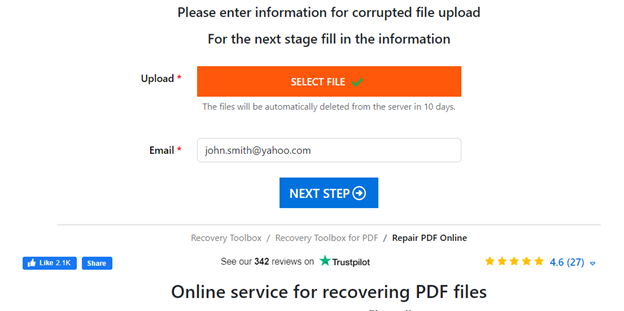 4. Click Next Step.
5. To use this service, upload your document that is in an invalid format. The corrupt PDF repair online service will analyze the contents of the Adobe Acrobat document and save all correct information from it to a new file. Even though the online service cannot fix corrupt PDF files, it can create a copy while extracting as much data as possible from an invalid document. 

6. See what the online service recovered from a PDF that couldn't be opened. On the preview page, you can view how many and which objects were recovered as well as saved. There is also a gallery of screenshots available so you can see what the PDF file looked like before it was unable to be opened.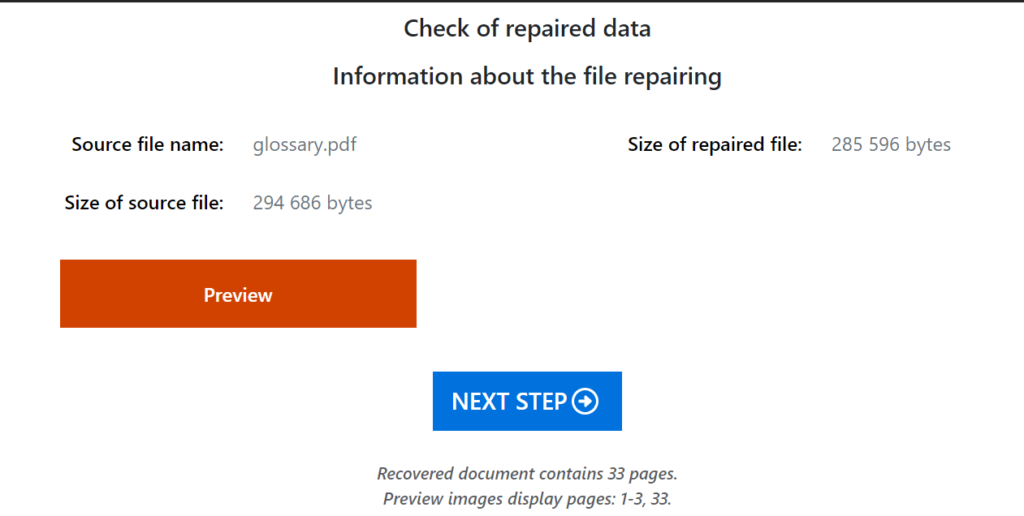 7. Complete your payment for our online PDF file recovery service, starting at only US$10 /1Gb, by clicking Next Step.
8. After downloading the Adobe Acrobat document, Open it in either Adobe Reader or another PDF reader.
How to Open a Corrupted PDF File Offline.
Download

the software

Recovery Toolbox for PDF

:

https://pdf.recoverytoolbox.com/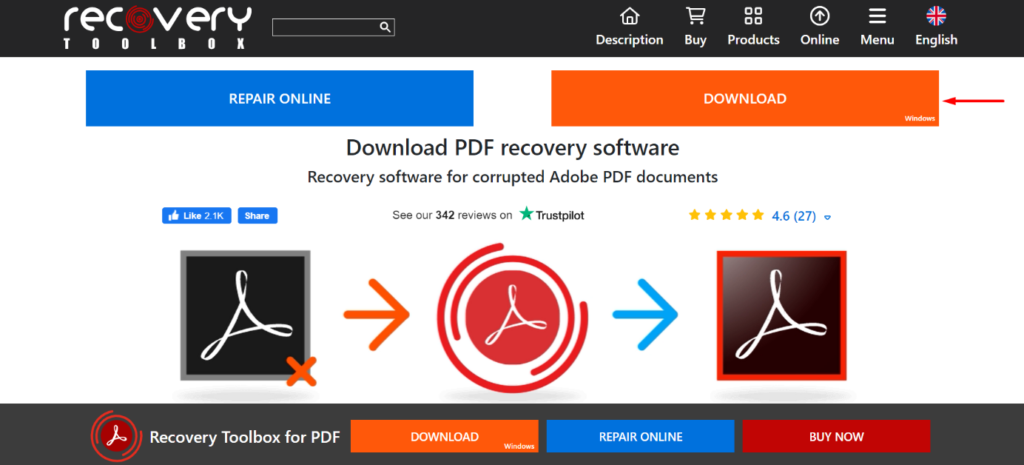 To use Recovery Toolbox for PDF, first

install

it on your computer.

On the first working page of the PDF fixer,

select

the document that is damaged.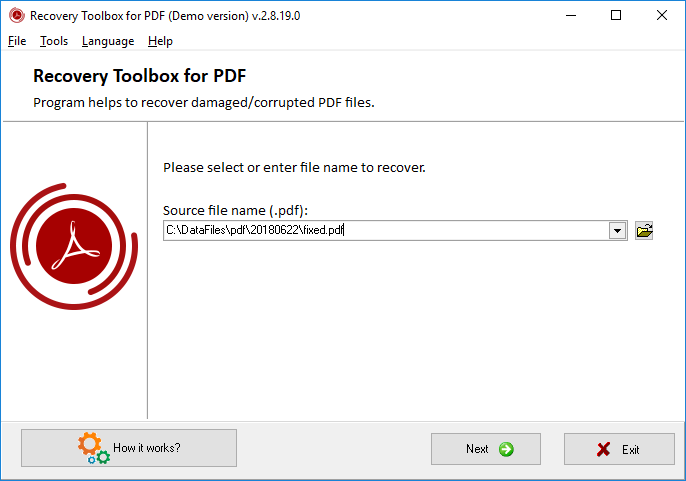 Start the analysis of why the damaged PDF file won't open with Adobe Acrobat by clicking

Next.
Select

the version of the PDF document and

save

the Adobe document with the recovered data.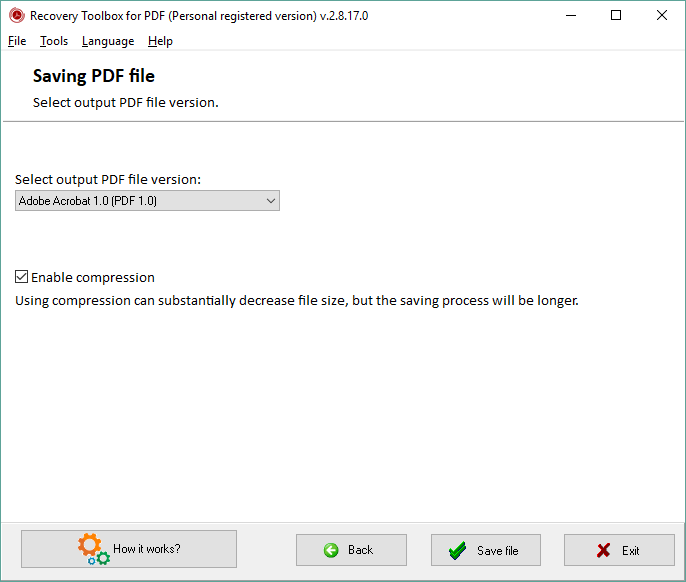 Choose

the version of the PDF document you wish to save, and then select 'Adobe' to begin saving your recovered data.

Select

whether you would like to compress data in the recovered PDF document.

Enter

the file name and its path before saving
Bonus: How to Open a Corrupted PDF File for Free
When you need professional software for PDF repair and recovery download, you can take a damaged Adobe Acrobat/Adobe Reader document and open it to display a list of data objects found within the file using Recovery Toolbox for PDF. You also have the option to export this recovered data from the PDF into a new *.pdf file that can be opened and edited in Adobe Acrobat/Adobe Reader or another program.
What may cause corruption in my PDF?
It is rather challenging to determine why files containing crucial data become damaged. 

It is often difficult to understand why crucial data-containing files become damaged. 
There are many reasons why this could be, including:
Error syncing data in your Adobe cloud folder on a local device
The error often pops up when PDF files stored on a device and in the cloud fail to match up due to connection trouble, time discrepancies, or issues with checksum verification.
Autosave mode
Autosave is a feature that creates a backup of your work in case the PDF program crashes, there's a power outage, or the program is closed suddenly. Autosave only kicks in when the file is open; as soon as you close it normally, the autosaved temporary file will be deleted. However, sometimes files aren't correctly saved because autosave isn't functioning properly.
Opening the same file with different software 
Every PDF file you open is adjusted to fit the software application's user interface. If you do this continuously with different applications, it significantly changes the file and may cause corruption.
Hard Disk problems
Faulty hard disks can cause major data loss or corruption. Even a small crash can result in lost data. 
The encoding used by e-mail service providers
If you're having trouble sending large PDF files via email, try zipping them first. Service providers sometimes encrypt these types of files automatically, but they aren't decoded on the receiving end, which makes them look like they've failed to upload properly.
The mixed page orientation in a saved file
Deep in a PDF file, its page orientation may be hidden. For example, when opened, the PDF appears as 210 mm x 297 mm with a portrait orientation. However, the file's Orientation is set to landscape elsewhere. This mixed page orientation can ruin the file if you are not careful when saving.
Unstable power supply and an unreliable internet connection
Many things could go wrong when downloading a PDF file—for example, an unstable internet connection or an interrupted download.
Conclusion 
The reasons why you should use the Recovery Toolbox for PDF include:
All operating system compatibility is ideal on most hardware, including phones and tablets.

There is no file size limit, and full support is provided for restoring PDF files of all versions and sizes.

Full support for PDF file recovery.

Ability to fix some logical errors caused by bugs in popular PDF generation tools

Saving recovered data into a new, properly formatted, and compacted PDF file

Supports the output of recovered data to compressed or non-compressed PDF documents

Full fixing compatibility with major Windows versions: Windows 8 and Windows 10 

PDF Viewer Tool

Displays and repairs a .pdf right from Adobe Acrobat

Online service for recovering PDF files with minimal action required.
The Technology Behind Recovery Toolbox For PDF
The corrupt PDF repair online will help you read PDF files that cannot be opened with standard file viewers from Adobe or are unable to be opened by Adobe Acrobat and save them as a new fixed document. This may happen after any kind of incident, be it a programming problem, a hardware crash, or a virus attack. Recovery Toolbox for PDF will fix PDF file corruptions and save the data in a new document. After recovering, you can open, view, and read a newly saved, uncorrupted document. The utility analyzes a bad file with .pdf extension and retrieves the maximum number of content pages from opened original files.
The utility is based on a powerful data analysis engine. The software can also restore corrupt PDF files created by third-party applications.
About the Recovery Toolbox
Recovery Toolbox is a Varna (Bulgaria)-based software developer, ISV vendor, and distributor company operating globally since 2003. Our multinational team of software engineers specializes in developing and introducing easy-to-use practical tools for data recovery, repair, and backup. Over the past 20 decades, more than 100 thousand customers have endorsed Recovery Toolbox's data care solutions tailored to the needs of end-users and enterprises. We offer industry-leading online data recovery/repair technology and offline data recovery software to repair a wide range of corrupted and damaged files. Being an ISDEF member, we have made every effort to provide users with innovative, value-added data recovery software products, making us one of the most trusted data care companies in the world.
What People Are Saying About the Recovery Toolbox for PDF Repair Tool
Recovery Toolbox is one of the world's most trusted data care companies.
Over the past 20 years, more than 100,000 customers (both individual users and enterprises) have endorsed their data care software solutions. See what users are saying about Recovery Toolbox for PDF:
+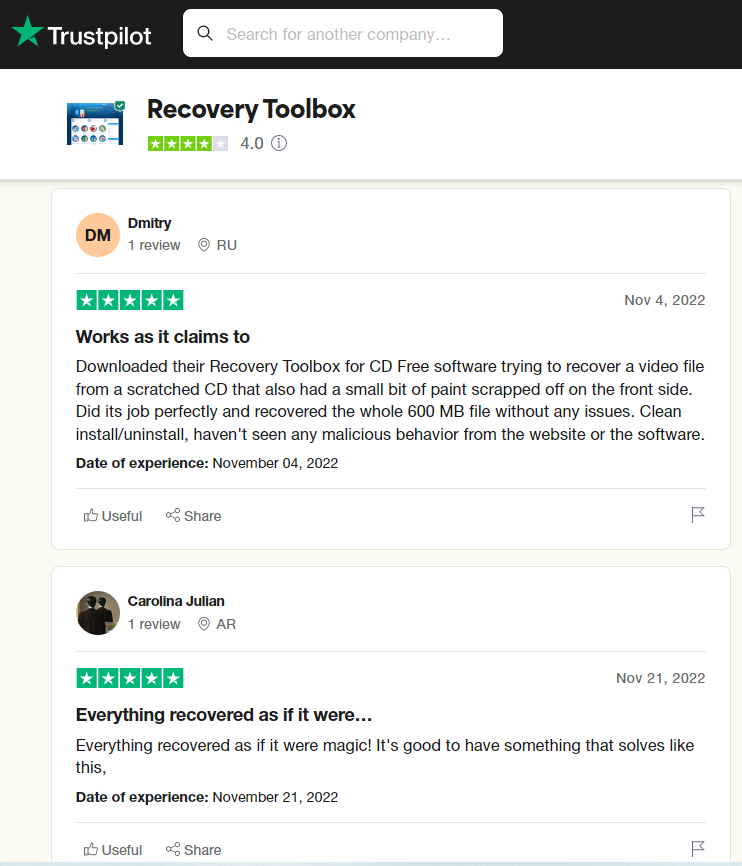 Related posts :