Caftan is an ancient dress worn in different cultures, and is of Asiatic origin. What makes today's caftan unique is that it's a mixture of ancient culture and high-end fashion designers work. Talking about caftan, its amazing thing is that it is a type of clothing with which need to wear something extra to look fabulous. Caftans are so light weighted which makes them easy to carry. Some of the caftans are brightly colored and embellished with patterns, embroidery, applique or other adornments reminiscent of the garment's African and Middle Eastern origins. You can wear a caftan to almost anywhere like weddings, formal dances, or casual vacations.
Its very rare that you will find a woman's garment that has both contemporary fashion and timeless African heritage as a caftan. Many high-end fashion designers have caftans part of their collection.
If you're new to the world of caftans and deciding to buy one, we know it can be little overwhelming sometimes because there are so many brands selling caftan, but don't worry, we have you covered up. From what caftan to buy to where to buy it!? We can help you in everything when it comes to caftan dress. In this article we will discuss in detail about everything you need to know about where you're going to find the best caftan dresses with amazing styles and patterns.
Top 3 caftan brands:
Caftan has become a part of many woman's wardrobe due to which the top fashion brands have made caftan a part of their fashion collection. We are going to discuss some of the best caftan brands to help you decide where to buy an amazing caftan.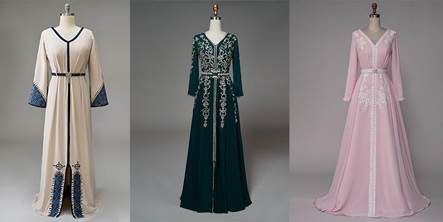 Mode et caftan is a French company that is famous for its L'ATELIER, a craft workshop dedicated to Fashion and Caftan in Morocco near Rabat. The caftans made by them are really artistical because of their team of Moroccan solidarity which works with a conscientious spirit and anxious to satisfy the final consumer.
If you're looking to buy Moroccan style caftan mode et caftan will be the move because of their vast experience in making Moroccan caftans. The passion they put into making their caftan is just amazing. Mode et caftan is a trusted brand who is providing its customers with great quality products. To mention some of their caftans ranging from KAFTAN SCARLETTE that has low neckline on its shoulders and brings a touch of modernity that will seduce lovers of evening dresses who want to stand out while focusing on the traditional side to KAFTAN GREENY which comes with a printed silk satin and Yellow anise green silk satin.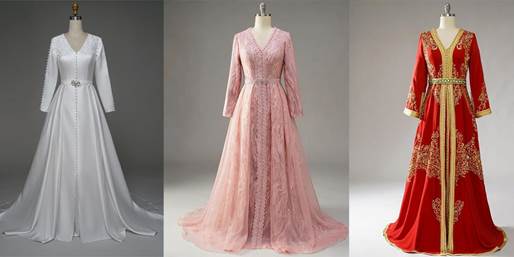 Dressself is a renowned and one the world's most famous clothing brand, that focuses on providing its customers with the best products. The most amazing thing about Dresself is that it's the only brand that provides caftans with the best designs and prints. From the sketch to the prototype through the final product, Dressself design's its pieces with the same approach as global Haute Couture. Another great thing about dressself is that it supports small local workshop, which makes their work up to the mark because they are preserving the heritage of Moroccan caftan craftsmanship. They have a wide variety of caftan dresses ranging from daily wear to wedding wear. If you're looking to buy caftan with the best design and finish that too on an affordable cost Dressself will be the best choice to make. To mention some of their amazing caftan take a look at their Abaya Floral Musulma which you can wear casually inside your house or even when you have to go outdoors. If you want a caftan for special occasions Dressself is offering their Robe Caftan avec Broderie which you can wear on special occasions. They are also offering their wedding caftans like Caftan Robe de Mariage Blanche in case you have to attend a wedding. Dressself has been providing their customers some of the best and quality products. 
So, what are you waiting for!? Get yourself a Dressself's caftan so that you will stand out in the crowd.
3-
Aniiqa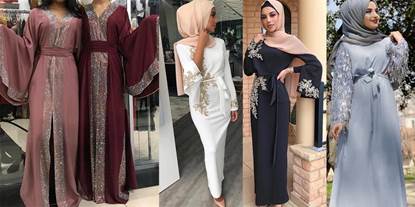 Another caftan brand famous for its simple and elegant caftans is Aniiqa, that has a great collection of modern and Moroccan oriental caftans. They are specialized in making caftan, and are providing their customers with their quality work. 
So, if you're looking to buy a caftan that has both elegance and simplicity, and is affordable, then go for Aniiqa. 
Some of their best selling caftans are, SIMPLE MLIFA KAFTAN DECORATED WITH HANDMADE STONES that is decorated with handmade stones and gives an elegant look, VELOR KAFTAN WITH CRYSTAL BOAT NECK that comes with a boat neck and gives a modern touch along with its traditional style. 
So, if you're looking to buy caftans with a lot of different varieties then Aniiqa will be the best choice for you.