So many chores, so many decisions, all those ceremonies and the moments apart, now you deserve a holiday to pamper yourself and to spend the lost time together.
No one says luxury like India and likewise, you will find the most luxurious suites here according to your preferences. We give you the most romantic suites in India, handpicked by us for you.
The Leela Palace's Honeymoon Suite
Udaipur's Leela Palace offers the most exotic and romantic suite for newlyweds. Romance starts here with a chilled bottle of wine, a box of chocolates, a lovely boat cruise and ends with a relaxing 50 minutes' couples' spa.
The Oberoi Vanyavila's Premier Honeymoon Suite
One of the best resorts of Ranthambore, located right next to the dense forests, this exclusive suite gives you facilities like a top 360-degree view of the Tiger Reserve, a romantic evening stroll on the dimly lighted pathways among lily ponds, a rose petal bath in the suite and a private yoga session, set up privately for the couple.
ITC Mughal's Tansen Suite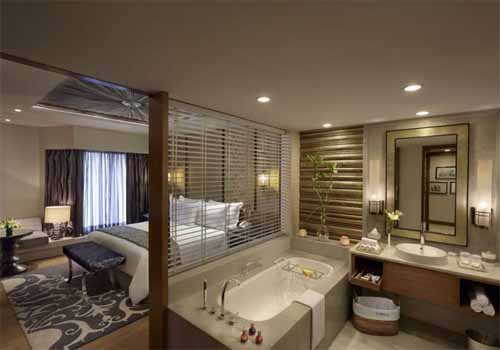 A royal hospitality, equipped with ultra-modern provisions and a Mughal styled suite equals a perfect honeymoon destination in India.  The resort is located right next to the iconic Taj Mahal and offers many romantic getaways and complimentary services for newlyweds.
The Bungalow on The Beach, Tranquebar
It's private, it's off the beat and it's right on the beach!! Here, you can spend all the time on your private beach, take a late-night swim in the pool and even take a heritage walk around the premises.
Park Hyatt's Imperador Suite
Located in Cansaulim, South Goa, this is one of the best 5-star beach resorts in Goa. This sprawling 172 square meter suite has a private swimming pool, formal receiving and dinner areas and its very own marble bath. The resort is well known for its spa facilities too.
Kumarakom Lake Resort's Presidential Suite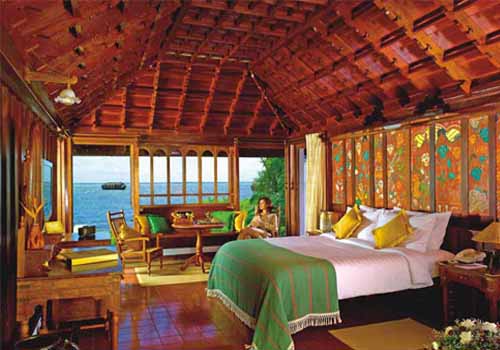 This is one of the most extravagant suites in the country. It's the perfect place to spend your honeymoon at with a complimentary bottle of wine, a basket of fruits, breakfast in bed, candle light dinner, private pool and a chance to visit the traditional houseboat of Kerala.
Wildflower Hall's Lord Kitchener Suite
Tucked among the Himalayas, this suite of Wildflower Hall is majestic, rich in décor and filled with leisure honeymoon activities. The adventure activities like mountain biking, ice skating and river rafting are very famous here. One of the most famous resorts in Shimla, Windflower hall offers to its visitors' other facilities like heated indoor pool and even a beautiful walk-in wardrobe.
Umaid Bhawan Palace's Maharaja Suite
It's fit for a royal couple, a king and a queen and you can experience it now! It's so lavish that you would never want to leave. It will pamper you right! Jodhpur offers a lot of heritage sightseeing and don't forget to check out the palaces here.
The Leela's Royal Suite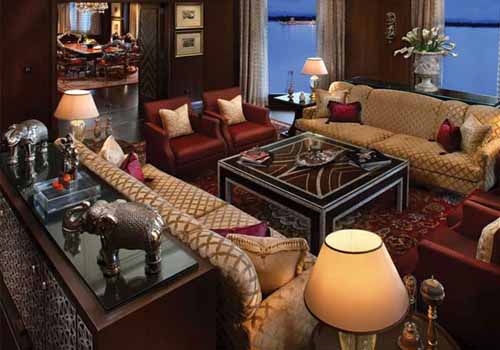 It's seen and visited by the country's elite and superstars form all around the world. The royal premier suite is adorned by intrinsic work, has a personal butler per suite, a private spa and Jacuzzi and a Rolls Royce pickup from the airport. This is the capital's foremost luxury hotel, giving world class treatment and is the perfect honeymoon destination in Rajasthan.
The Oberoi's Presidential Suite
The metropolitan city of Mumbai is considered as one of the most sought after honeymoon destinations in India. The Oberoi is located just across Marine Drives, the most beautiful bay in Mumbai and is surrounded by the Queen's necklace, a string of lights around Marines. This suite is the 4th most expensive in the country, due to its luxurious and extravagant facilities and treatment.
India is slowly coming up to be a global honeymoon destination. Royal suites, beach resorts, private bungalows are all very much in demand and hence they are all extravagant in terms of cost. Which one among there will be your honeymoon destination?
Author Bio: Rohit travels all over the country and has handpicked these extravagant and grand honeymoon resorts and suites.