There are many individuals out there who wish to switch from their old phone to a brand-new one. Along with that, they also want to transfer all their data to the new device. Even though it's possible, you need to use the correct solution for the work as there are many available. So, when you want to transfer WhatsApp or any other chat messages, you first have to backup WhatsApp messages as it will guarantee that you won't lose anything.
After that, you need software, such as Dr. Fone to transfer chat messages from one device to another. Here, in this article, you will learn how to transfer WhatsApp messages from Android to iPhone along with some unique features of Dr. Fone and why use that particular tool.
Ways To Transfer WhatsApp With Dr. Fone
You are thinking "how to transfer WhatsApp from iPhone to Android" through this particular software from Wondershare, well the steps are pretty simple. You just have to do the backup WhatsApp messages work, and you are set to conduct the transfer. So, how is it done? Look at the information below!
Step 1: Download & Install Dr. Fone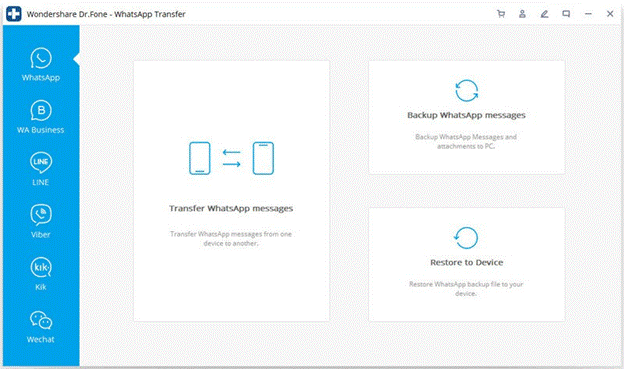 The downloading and installation work of this particular tool is straightforward. It's advised that you access Dr. Fone's official website and click on the download button. After downloading the tool, you must proceed with the installation, taking a few minutes to complete. After that, you can run the software on your PC or laptop and click on the WhatsApp Transfer option.
Step 2: Connect Your Devices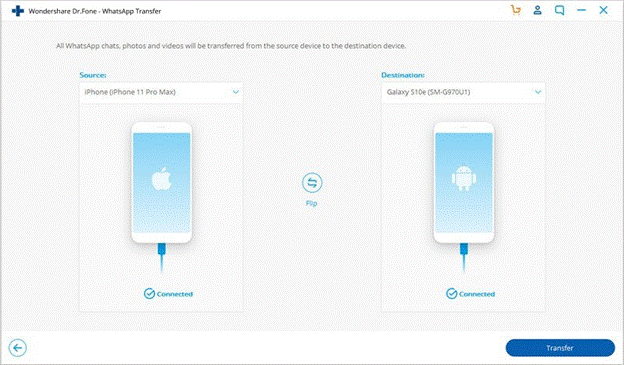 Now, the next step for "how to transfer WhatsApp from iPhone to Android" is to connect the two iPhone and Android devices with the laptop or PC. To complete the connection work, you will require a suitable USB cable. Ensure the cable is connected correctly with the devices and the PC/laptop right before transferring work. If the cable is a bit loose, connect it properly to not open during the transferring process.
Step 3: Transfer Your WhatsApp Messages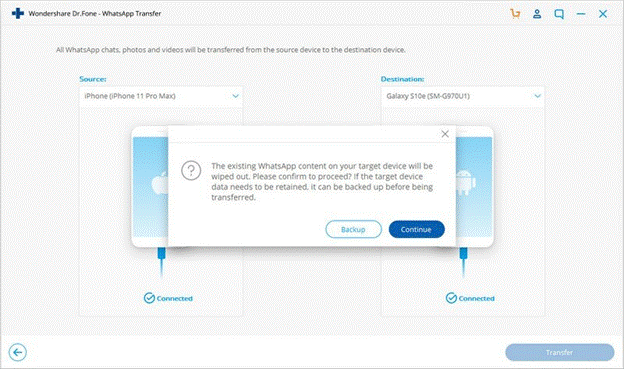 When all the devices are connected properly and securely, you can press on the TRANSFER option to begin the transporting work of the WhatsApp message. Once the transfer is completed, all the messages within the destination device will be removed.
In other words, if you are shifting the WhatsApp messages from an iPhone device to an Android one, the messages will not be present within the iPhone device. A notification will appear on this particular matter, which you have to confirm by clicking on it.
Related post :  How to Use WhatsApp on your Computer?
Step 4: Just Wait For A While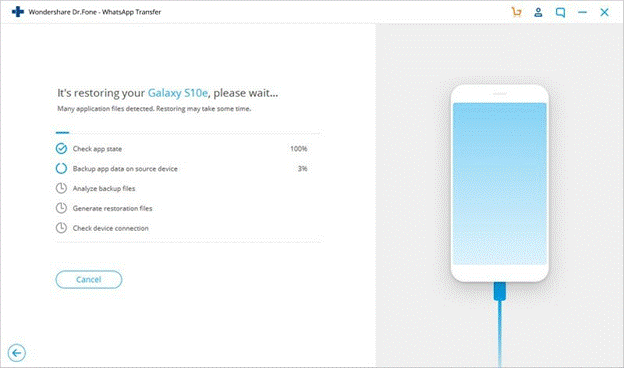 You just have to play the waiting game as the transfer will take some time to complete. If you have many messages, it might take some time to finish, but it will not take the whole day. Dr. Fone is designed to get the transferring work done within 10 to 15 minutes. Once the work is done, a notification will appear that the transfer of WhatsApp messages is completed.
Why Choose Dr. Fone For Transferring WhatsApp Messages?
There are two reasons why you must opt for Dr. Fone software instead of other tools, which are available in the market. Check below!
Convenient: The transferring process of WhatsApp messages will be done directly from the iPhone to Android device or vice versa. Individuals can easily transfer through an iTunes backup to an Android device in a hassle-free manner.
Easy: Shifting messages, pictures, and even videos with Dr. Fone are not that difficult. The process is also not that time-consuming, and it's fast and reliable.
Read here :   How to make a social networking app?
Features of Dr. Fone From Wondershare
The software has many unique and extraordinary features, which you should take a look at. They are:
Data Eraser: Are you interested in erasing or removing all those data you consider unimportant or useless? Well, you can do so with Dr. Fone's Data Eraser feature. It will easily delete or remove all the data that you don't want within your Android or iPhone device easily and effectively.
Phone Backup: Now, you can easily backup all your essential files, chat messages and other things through the Phone Backup feature. You can use this feature on iOS and Android devices and then restore all the backup information to another device.
Ending Words
Do you want to transfer files or WhatsApp messages from one device to another? You must opt for Dr. Fone from Wondershare. The software is completely safe and secure, and it will not harm your PC or laptop in any way.