Chardham Yatra
Chardham Yatra is one of the religious and spiritual Journeys that fill the soul with positive energy. Chardham is consists of four Dhams and they are Badrinath, Kedarnath, Gangotri, and Yamunotri. According to some legends, Visiting Chardham Yatra will wash your sins that you have done in your life. Visiting Chardham will give you salvation from the cycle of birth and rebirth.
Chardham Yatra will enrich your soul and gives you peace amidst the serenity of nature, snow-clad Himalayas, and lush green trees. So, Book Chardham Yatra Package and lost in the beauty of nature in your Chardham Yatra.
Chardham Yatra Registration 2020
Uttarakhand Government has made it obligatory for everyone who is visiting Chardham Yatra. After registering themselves for biometric registration you are going to receive biometric registration cards.
Since 2014, Biometric registration becomes essential after the incident of 2013.
Advantage of Registration For Chardham Yatra 2020
The biometric registration card will help the state government to track the pilgrims with a GPS based monitoring system.
Pilgrims also avail special facilities of food and lodging through biometric registration card.
Offline Chardham Yatra Biometric Registration 2020
You can do Offline registration at 14 registration centers which have 50 counters for visitors. If you want further information regarding Biometric registration you can call on the toll-free number.
Toll-Free Number For Registration Enquiry: 18001804145
The 14 registration centers for bio-metric registration is mentioned below:-
| | |
| --- | --- |
| Places | Registration Counter location |
| Haridwar | Railway station |
| Haridwar | Pandit Dindayal Upadhyay parking |
| Rishikesh | Roadways bus stand |
| Rishikesh | Hemkund Gurudwara |
| Jankichatti | Janki Chatti |
| Phata | Phata |
| Gangotri | Gangotri |
| Guptkashi | Guptkashi |
| Sonprayag | Sonprayag |
| Kedarnath | Kedarnath |
| Govindghat | Govindghat |
| Uttarkashi | Hina |
| Uttarkashi | Dobata |
| Pandukeshwar | Pandukeshwar |
Online Registration For Chardham Yatra 2020
You can also register online for Chardham yatra 2020. If you don't want to wait in a long queue and save your time, you can choose an option for online registration and this whole process is quite easy. For registration, you need an id-proof ( Aadhar card, PAN number, Voter ID number, Passport and Driving license ), Mobile number and an email account. You have to pay an INR 50 for online registration of Chardham Yatra 2020.
You can register yourself ONLINE HERE
Steps for Online Registration For Chardham Yatra 2020
The first step to register yourself is to click ONLINE HERE and after that, a page will appear. You have to fill all the information mentioned on the page that opens.
After a successful registration. you have to open your email account, a verification link will be sent in your e-mail with the Username and Password. Click that link given in the inbox of your email and log in with username and password which have sent in your inbox.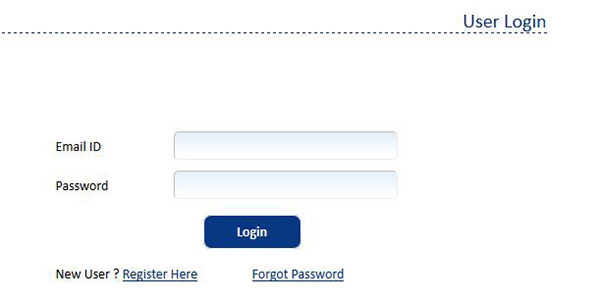 After login to your id a list of "Important instructions for devotees" will open up and click on the button link of Book Darshans.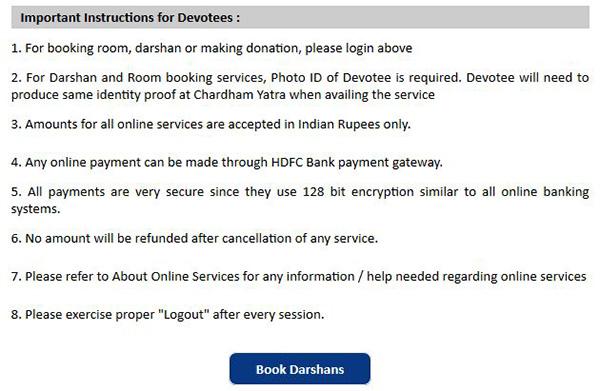 After clicking Book Darshans a new window will open up. Fill the details mentioned in the window like- the details of no. of pilgrims, Checkbox of all the four Dhams that you are going to pay homage with the dates of particular dham besides the Checkbox and Click to Proceed You have to fill this for further steps for Chardham Yatra 2020.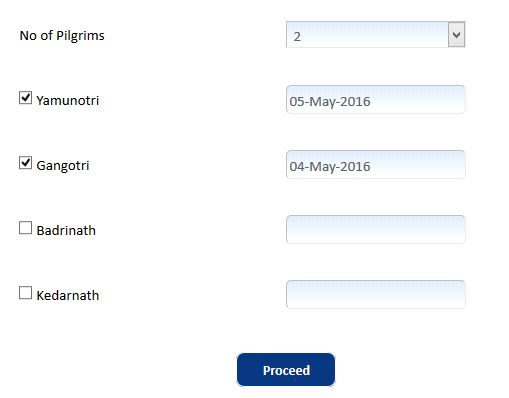 A new window will open Booking Confirmation. Check all the details of the care and click on the Confirm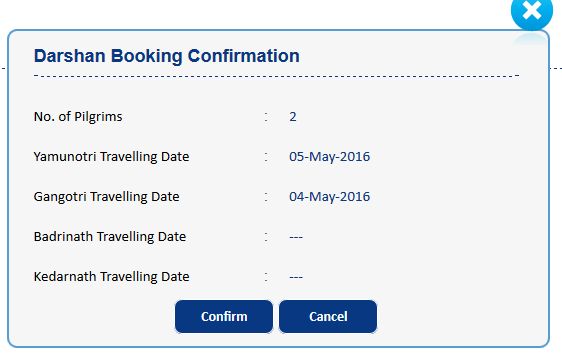 Enter the details of your Co-passenger that are going with you (if any) and click on the Proceed

Now, a new window of Payment will appear. Choose the mode of payment from which you want to pay the amount of INR 50/- and click on the Make payment.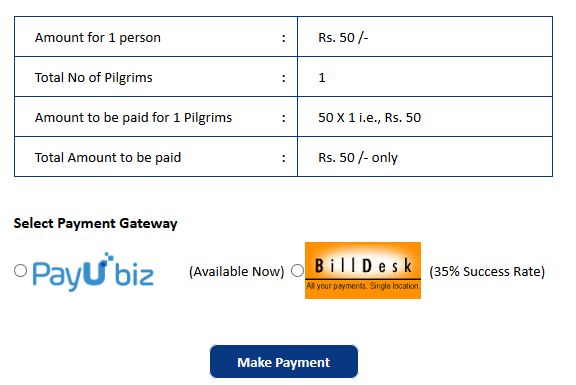 Now, you have to register yourself successfully for the Chardham Yatra 2020. After you will receive an online registration slip. By showing registration slip to any of the counters meant for Chardham yatra registration, you can get your registration card from that counter.
Uttarakhand Tourism App
Uttarakhand Government has also launched a Uttarakhand tourism app which will update you with the information like:-
Discover Destination
Places to see, eat and buy near you
Accommodation search
Online Chardham yatra registration
You will get information about weather, road, and official advisory of safety from Uttarakhand tourism.
You can share your experience feedback on this app
So, open your laptop or mobile phones and download the Uttarakhand tourism app that will give you so many facilities and will make your journey easy and safe.
Travel tips for Chardham Yatra 2020
Carry warm woolen and water-resistant clothes with you as the temperature is quite cold and the weather is unpredictable. So, it's better to travel safe and already carry water-resistant and warm clothes.
Carry a medical kit of yourself as the climate there is quite unpleasant.
Carry dark chocolates, glucose, dry fruits so that you can get energy by eating them which helps you in trekking.
Do not take a picture if cameras are not allowed in that place.
Hire only registered ponniwala.
Don't relax at places where warning and alert signs are mentioned.
Carry water and dry edible with you so that you can drink and eat when you need it on your journey of Chardham Yatra.
Start preparation 1 month before your Chardham yatra. So that you can't forget the essential things to carry with you.
Non-veg food and alcohol are not allowed on Chardham Yatra.
Best time to Visit on Chardham Yatra 2020
The best time to Visit on Chardham Yatra is summer months from April to mid of June. You can't travel Chardham yatra in monsoon and winter season because the weather in winter and monsoon of Chardham yatra is quite unpleasant to travel.
Opening and Closing Dates of Chardham Yatra 2020:-
| | | |
| --- | --- | --- |
| Dhams | Opening Dates | Closing Dates |
| Yamunotri | 28th April | 29th October |
| Gangotri | 26th April | 28th October |
| Kedarnath | 28th April | 29th October |
| Badrinath | 25th April | 17th November |