Your Guide to Wine and Cheese Pairing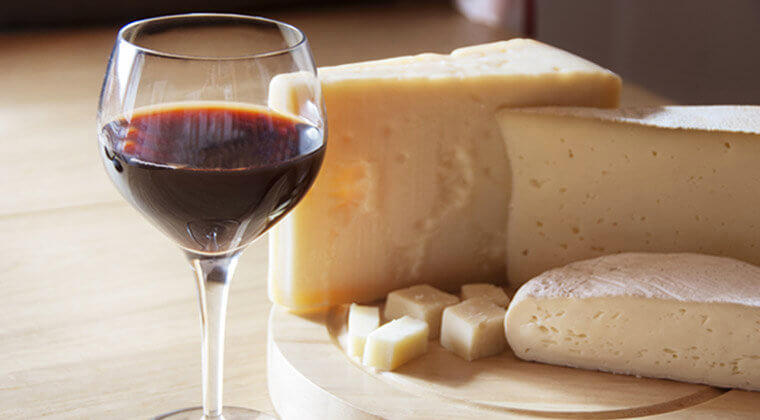 Have you ever tried to drink wine while having cheese? Sounds unusual or tried before?
We can give you a chart of wine and cheese pairings that will be homemade as well. Read on to find out how.
How to Pair Wine & Cheese
Did you know that it is scientifically proven that foods containing high fat and protein balance the taste of tannin pretty well? Hence, wine and cheese are just perfect.
Generally, wine with more than 14.5% alcohol by volume (ABV) tastes amazing with more salted and spicy cheese recipes because this type creates an intense pairing. Whereas, wine with an ABV below 12% goes well with milder cheese preparations.
Red Wine & Cheese Pairing
Firm, semi-firm, and aged hard cheeses taste best with red wine.
To name a few, Merlot, Syrah, and Cabernet Sauvignon are paired with aged Cheddar, Gouda, Pecorino, and other such goats, sheep, and cow milk cheeses.
Red wine and specifically aged cheese create a bold and delicious combination because when cheese ages it loses water content and gains fats. That fat counteracts the high tannin factor of wine.
What Kind of Cheeses Go Well with Sweet Wines
Are you a sweet wine person? If Moscato, Port, Late Harvest dessert wines are your thing then, you should go with stinky blue-veined, and washed-rind cheeses.
Why is that? That is because the sweet wine makes the odorous cheese taste creamier.
Also, Port wine with Stilton cheese, Camembert pungent cheese and Moscato, and Sauternes with Roquefort cheese make balanced classic pairings. Must try!
Pairing Sparkling Wine with Cheeses
Want to know what type of cheese tastes excellent with sparkling wines like Champagne and Prosecco? Keep reading.
When you are about to throw a Champagne party Baby swiss cheese is a must-have. Buttery Baby swiss cheese compliments the high acidic content of Champagne.
Did you try Prosecco with soft Parmesan cheese? Well, now try Prosecco and creamy brie or Camembert cheese.
Relish white Italian sweet wine, Asti Spumante and Gorgonzola-style blue cheeses pairing to try something delicious.
Provolone Cheese with Wine
Pair provolone cheese with Syrah or Shiraz wine. Shiraz is a red wine made of plum, black pepper, and leather.
You can also try Italian red wine Barolo containing raspberry, ripe cherry, creamy vanilla spice, and dark flowers.
The name that comes third in this chart is Chianti. It is a red wine from Tuscan. Chianti is made of fruity with plum, orange peel, sour cherry flavors, almond, & coffee.
Apart from the above mentioned wines, check Bardolino, Chardonnay, Sauvignon Blanc, and Sangiovese with provolone cheese.
White Wine & Cheese Pairing
The fact is, white wines make a better pairing with any kind of cheese. The freshness, perfumes added, acidic content, and sweetness of such wines make it a favorite cheese & wine combos.
Let us guide you to choose the right pairing. Creamy  Camembert, Brie, and other soft, surface-ripened cheeses work well with Chardonnay or Burgundian Chablis. On the other hand, off-dry, light white wine Riesling works well with spicy flavored cheeses.
The Conclusion: Pair Well together!
Here is another tip. Whenever you are confused about cheese, try nutty cheese.
If you have already tried some of the cheese & wine pairings mentioned above, you can readily try the other ones. And, find if it's a trick or treats. Enjoy.